Back To Our Services
If you haven't taken the time to find a reliable set of emergency services providers for your garage door at home then you might want to take the time to do so. There are many reasons you could need one, and when it happens, you might have trouble finding a trustworthy technician while you're in a panic or a rush. When it comes to garage doors, there are a few things that could leave yours inoperable, and therefor unsafe.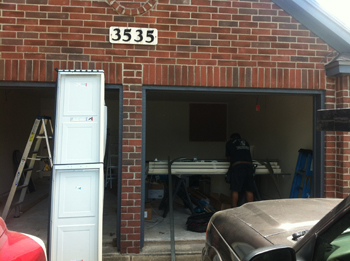 Expect the unexpected
Having a known garage door repair company at hand helps in times when there are accidents. Should you find that someone has backed into the door while it was not properly opened, or knocked a dent in the tracks, you'll find they leave your door in a dangerous state and also compromises your home's security. That means there is no time to wait for a tardy technician.
The eventual wear down
Over time, you could find that simple wear and tear will have you looking for emergency opener repair, spring replacement or adjustments. All components have a lifespan, and you need to be ready for when the parts in your garage give in.
That's why it is important to have an already scouted company or technician's number under your list of emergency services, somewhere close at hand so that you don't have to go into a flat panic when something goes wrong with your garage. Call our company for fast, same day emergency services anytime!
Back To Our Services